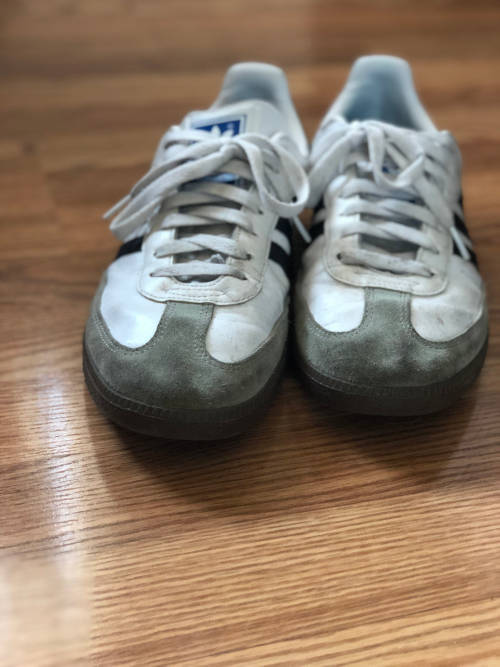 Introduction
More than a year ago, I bought a pair of Adidas Sambas in white to replace my aging and holey Stefan Janoski sneakers from Nike. The Janoskis had only lasted me 6 months before the soles began to wear out to the point where my socks would protrude through the bottom, and the sides of the canvas material started to split open. I needed a new commuter shoe, one that could endure a daily 1 mile walk from the train station to my office job, and back- while still maintaing a casually stylish look.
Where to buy Adidas Samba and colors
One of the great things about Sambas are that they're practically timeless and fit in well with most outfits, both on men and women. I've worn them with jeans, along with khakis and slim fitting chinos of various colors. Although in my opinion the white ones are the most versatile and best looking, there are variety of colors to choose from. If you're looking to buy a new pair of commuter showes, I highly recommend these for the price! Here are all of the official colors from Adidas for the Samba line, with the white ones being my favorite!
| Color | Link |
| --- | --- |
| Footwear White/Collegiate Navy/Gold Metallic | See it |
| Footwear White/Core Black/Gum 5 | See it |
| Core Black/Footwear White/Bluebird | See it |
| Collegiate Navy/Collegiate Burgundy/Footwear White | See it |
| Cbbrown/Trasca/Ftwwht | See it |
| Core Blue/White | See it |
| Black/White/Gum | See it |
| Green | See it |
| Collegiate Burgundy/White/Bluebird | See it |
| Core Blue/Footwear White/Bluebird | See it |
| Black | See it |
| Cblack/Ftwwht/Blubir | See it |
The best sneaker ever?
I had heard great things about the Samba, which seemed to be inspired by German military trainers. I bought a pair in white thinking that they'd last me about as long as every other sneaker that I've worn- around 6 months. 1 year and 2 months later, they've held up quite well and completely taken me by surprise in doing so. I've worn them nearly daily, although most people probably don't do that and so I'm sure they must last even longer for others. Since I chose to buy them in white, I thought that keeping them clean would be problematic, though thankfully that turned out to not be the case.
Easy to clean, even in white!
Maybe it's because a large part of them are leather, but anytime they got scuffed or splattered on, a simple wipe down with a wet paper towel nearly always did the trick. Whenever they've gotten too dirty from playing soccer or walking on dirt paths (I took them on a few backroads), throwing them in the washer worked incredibly well. Everytime I've done this they've come out looking radiantly white, to the point where I almost wanted to brush a little dirt on them again to make them look like I've actually worn them and that they're not fresh out of the box. Even after a year, the only signs of wear that are visible on them after a good wash are a few creases.